More Continuity Than Change: Viewing Southeast Asia's Security Priorities amidst Strategic Uncertainties
Limited Print and Electronic Distribution Rights:
This document, printed by SCSPI and Peking University Institute of Ocean Research, is protected by law. Unauthorized posting of this publication online is prohibited. Permission is required from SCSPI to reproduce, or reuse in another form, any of its research documents for commercial use.
---
For a region that has been known not to be as transparent in the defense sector, Southeast Asia has been remarkable this year with the release of two national defense white papers, namely from Malaysia and Vietnam. The underlying motivations behind the release of these key official documents are different for the two countries.
The 2019 White Paper on Vietnam National Defense was released in Hanoi on Nov. 25, 2019
For Vietnam, it is a timely and somewhat long-awaited update of the last national defense white paper published in 2009 – much has changed over the past decade to necessitate a review of the country's pre-existing outlook and posture. Moreover, the release of this document was well-timed with Hanoi's taking over the chairmanship of the Association of Southeast Asian Nations (ASEAN) late in the year. Release of this new white paper represents also Vietnam's newfound drive for defense diplomacy observed in the recent years.
Malaysia tabled its first Defence White Paper in Parliament on Dec. 2, 2019
Malaysia's case appears to be more of a domestically-focused attempt. The ascendance of a Pakatan government in May 2018 plays a not insignificant part in advancing this initiative, riding on the new incumbent leaders' desire to fulfil certain key election pledges, one of which being accountability and transparency. This is reflected in the defense sector therefore, which also dovetails well with the pre-existing drive towards promoting economic sustainability to support the Malaysian Armed Forces.
These developments certainly gave rise to commentaries about how they relate so closely to the South China Sea disputes, as well as the strategic rivalry between China and the United States. To be sure, the SCS disputes and Sino-U.S. rivalry have caught much of the public attention. However, there are in fact more continuities than changes in the strategic outlooks of Hanoi and Kuala Lumpur – and for that matter, many ASEAN capitals – that are reminiscent of the 1990s and early 2000s, when Southeast Asia found itself caught in evolving strategic fluxes.
Tales of Different Security Perceptions
The Malaysian and Vietnamese defense white papers do have a common denominator that would not have been any different to the theme of contemporary strategic concerns heard within the Southeast Asian policy discourse these days. That would be the evolving Great Power rivalries – primarily, the contestation for influence and space between China and the U.S. This constitutes one of the three primary challenges highlighted in Malaysia's Defence White Paper (DWP), even though this is not new as the topic has been raised publicly in recent times by Malaysian policy elites.
The Vietnamese document is more explicit in flagging this particular issue with respect to the evolving SCS circumstances. "The region still remains the ground for major powers' rivalry and influence intensification, harbouring destabilizing elements, traditionally and non-traditionally alike," the Vietnam National Defense White Paper 2019 cautioned. "Strategic rivalries between major powers have become increasingly acute, sometimes turning the East Sea into a "flash point", potentially leading to conflict."
These are concerns which definitely would find resonance amongst the other ASEAN governments, which have been viewing with no small amount of wariness the intensification of the Sino-U.S. rivalry as the trade war festers over the past year – leading to downstream impact on Southeast Asian economic well-being, which is significantly premised on manufacturing and exports – and while Beijing and Washington bicker over contentious issues such as 5G tech, Hong Kong and Xinjiang.
Such consternation could have been reminiscent of the anxieties felt in the region in the early 1990s, especially over the possibility of a strategic vacuum left behind by a perceived receding American presence back then following the withdrawal of U.S. troops from the Philippines. And the anxieties surrounding the post-September 11, 2001 terror attacks on the U.S., which subsequently gave rise to Southeast Asia emerging as a second front of the U.S.-led Global War on Terror while Washington appeared more preoccupied with military campaigns in Afghanistan and Iraq then.
That persistent concern about the strategic environment and roles played by major powers would be a continuity that is observed in Southeast Asia over the decades, albeit with a different context buttressed by specific new international developments each time. This is a bane for Southeast Asia which is blessed with not only a geography that benefits its economic well-being, but at the same time bedeviled with the baggage of contending with evolving strategic fluxes that hinge much on the evolving interests of major players in and around the region.
However, to attribute Southeast Asia's security concerns solely to Great Power rivalries would be to over-simplify the myriad of challenges this complex and diverse region has been facing to date. There is a perception (or impression) perpetuated by media commentaries that Southeast Asia has been preoccupied with such geopolitics and the SCS issues. Such views run contrary to the fact that Southeast Asia is represented by 10 different countries that form ASEAN, each with its unique set of threat perceptions and priorities.
Vietnam's defense white paper warned that "factors that potentially cause instability and tension still exist and evolve in a complex manner" despite positive developments in the SCS, thereby "posing new challenges" to the country's sovereignty, territory, peace and stability. Notwithstanding this, Hanoi by no means overlooked other attendant security challenges, as the document intoned about "hostile forces who conspire with reactionaries and political opportunists inside the country" which endeavor to destabilize the country's political system.
Keeping an overwatch on the geopolitical flux in the SCS could better characterize Malaysia's posture, as its defense white paper and past policy pronunciations have demonstrated. The SCS forms just part of Kuala Lumpur's security preoccupations, and it does not even appear to be a top priority – contending with non-traditional threats such as radicalization and violent extremism, a continuity from what transpired in 2013 during the infiltration of armed militants into Lahad Datu in Sabah as well as the spate of Sulu Sea kidnap-for-ransom incidents remains the primary focus.
Malaysia and Vietnam are not alone in this respect. Indonesia, which published its last defense white paper in 2015, did acknowledge the evolving geopolitical dynamics and the SCS situation but visibly paid more attention to multi-dimensional, non-traditional security challenges ranging from cyber to separatism threats. The Philippines, notwithstanding recent SCS developments, has largely focused its attention on countering internal security threats especially following the almost five-month long siege of Marawi led by the Maute Group.
Persistent Challenge of Capacity Shortfalls
The myriad of non-traditional and traditional security challenges that long afflicts Southeast Asia has been a constant. Even amidst the geopolitical dynamics of the Sino-U.S. rivalry, there has not been a general shift in primary focus from tackling those more pressing, largely non-traditional threats. However, Southeast Asian countries generally enjoy no luxury of having to just direct limited resources towards only a narrow set of security challenges. National self-help has always been predicated on preparing for a broad spectrum of threats since the 1990s especially.
Both Malaysian and Vietnamese defense white papers highlight the need to acquire requisite capabilities to cope with this evolving spectrum of security challenges. The task is arguably easier – albeit not meaning to underestimate the magnitude of such an enterprise – for Vietnam compared to that for Malaysia, since "big ticket" defense and security acquisitions such as fighter jets and warships would be largely designed with the SCS scenario in mind. Not so for Malaysia, which confronts a broader range of security issues beyond just the SCS.
Besides asserting sovereignty in the SCS, the Malaysians still have outstanding requirements in areas of capabilities and capacities to deal with day-to-day peacetime problems such as illegal fishing off its coast, while sustaining its already sizeable, post-Lahad Datu security presence in eastern Sabah. With both the peninsula to the west and Borneo coast to the east covering four distinct water bodies – the Indian Ocean, South China Sea, Sulu and Celebes Seas – the challenge of policing such colossal areas of responsibility magnifies for Kuala Lumpur.
Given the current fiscal austerity drive undertaken by the Pakatan government, the white paper underlines the pressing need to not just prioritize but rationalize the allocation of scarce national resources to the defense and security sector, riding on the election manifesto of promoting transparent governance and economic sustainability. This is also aimed at contrasting the incumbents against the previous government that was criticized for "buying unnecessary defence equipment and at "uneconomical" prices" and for relying on arms brokers.
To this end, the Malaysian Defense Minister Mohamad Sabu described the document as essentially a "grocery shopping list" that hinges heavily on the country's financial health: "It is like going to the supermarket at the end of the month after we get our salary. We must know what we want to buy for the five children and the house that has three rooms. So, we know that we buy according to the needs of our family. This is the same as buying for the country." No prizes for guessing correctly that Kuala Lumpur would continue to direct limited defense resources towards selected key priority challenges.
Again, prioritizing scarce resources towards defense and security has never been a new thing to Southeast Asia, but a norm so far given the overarching focus of governments in socioeconomic development since the early 1990s. Despite efforts to increase budgetary allocations to the defense and security sector in the recent years, clearly the resources made available to several Southeast Asian militaries and law enforcement agencies still fall short of what is desired in order to scale up existing capacities to be commensurate with the geographical responsibilities these countries take on.
Table 1 below provides a snapshot of the maritime geographical areas of individual ASEAN countries (except Laos) and the military and law enforcement capacities available for peacetime policing. It is insufficient to simply look at the absolute quantities of hardware available, but how existing capacities are proportionate to the geographical extent of these countries' maritime areas of responsibilities. Evidently for countries like Indonesia, the available capacity is far from sufficient to police its vast maritime zone compared to, say, Singapore.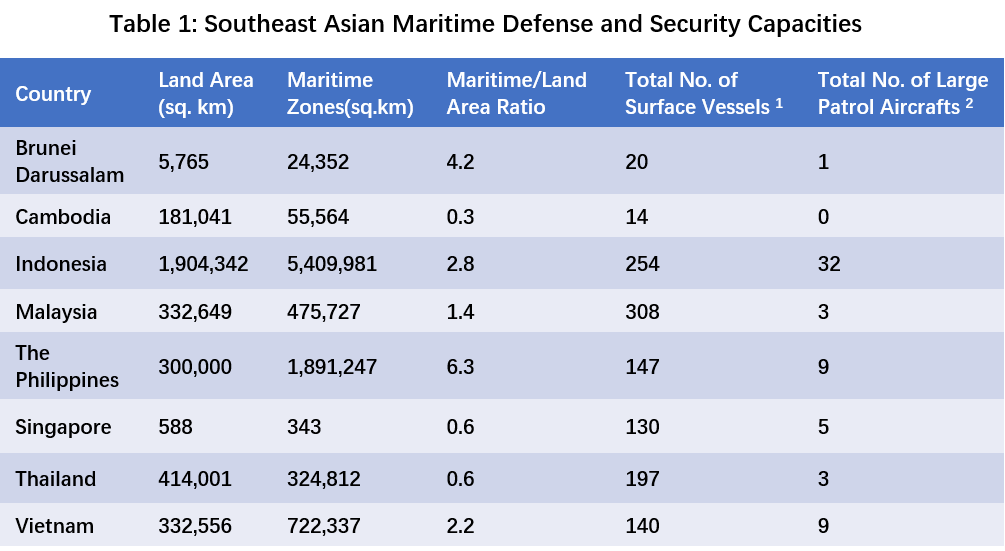 Source: By author compiling various materials including The Military Balance 2019, International Institute of Strategic Studies.

Notes:

1. Surface combat and patrol vessels only; includes law enforcement agencies;

2. Fixed-winged maritime patrol and reconnaissance aircraft only; includes law enforcement agencies.
The Continuous Need for Security Engagements
If there is another common theme picked up from the Malaysian and Vietnamese defense white papers, it would be the call for increasing security cooperation with other countries. For example, the Vietnamese white paper stated that, "depending on circumstances and specific conditions", it would consider developing "necessary, appropriate defence and military relations with other countries" – though this rather open-ended exposition should imply all types of defense and security cooperation short of forming military alliances, one of the four "noes" explicitly listed in the document.
Again, this is more continuity than change in Southeast Asia since the 1990s. The only change in Vietnam's case is its increased defense diplomacy activism enabled by an expanding set of capabilities at its disposal. For example, the acquisition of oceangoing naval assets allow Vietnam (and also most recently, the Philippines) to embark on long-distance missions far from its home bases. This is all underpinned by a longstanding habit cultivated in Southeast Asia to engage in wide-ranging defense and security cooperation with external parties.
Compared to the 1990s, today's defense and security cooperation in Southeast Asia is buttressed by a more developed set of regional institutions, for example the ASEAN Regional Forum and ASEAN Defence Ministers' Meeting (ADMM) and ADMM-Plus which comprises the eight dialogue partners of the 10-member bloc, namely, Australia, China, India, Japan, New Zealand, Russia, South Korea and the U.S. As a crucial part of the regional security architecture, these institutions help cultivate habits of security engagements to tackle common security challenges.
For several of these ASEAN governments, their security engagements with external parties dated far back, for instance the Five Powers Defence Arrangement between Australia, Malaysia, New Zealand, Singapore and the United Kingdom. The extent and scope of each of these types of engagements vary according to the capabilities available to the participating countries. Overall, however, these engagements have proven to be instrumental in helping Southeast Asian militaries and law enforcement agencies in their capacity-building efforts.
In today's context of evolving, more complex security environment, the drive towards promoting such engagements becomes ever more critical especially as Southeast Asian governments continue to confront not only an extant broad spectrum of security challenges but the need to carefully husband finite resources and allocate them to areas of security priorities. Security engagements therefore help compensate gaps in these countries' self-help, and in this respect, also represents yet another continuity from the past decades.
Koh Swee Lean Collin
Koh Swee Lean Collin is research fellow at the Institute of Defence and Strategic Studies, a constituent unit of the S. Rajaratnam School of International Studies based in Nanyang Technological University, Singapore. He primarily researches on maritime security and naval affairs in Southeast Asia.